Once again, the crypto world is abuzz today with another unexpected movement in Dogecoin's (DOGE) price, thanks to a tweet from the iconic Tesla CEO, Elon Musk. This has become a consistent phenomenon, where virtually every Elon Musk tweet hinting at or referencing Dogecoin prompts a flurry of activity from DOGE enthusiasts, regardless of the subtlety or directness of the tweet's content.
This morning, the catalyst for the sudden upswing in DOGE's value was a simple tweet from Musk. He shared a logo animation of the "X" logo, created by one of Twitter's most renowned DOGE influencers, @DogeDesigner. Interestingly, Musk shared the video without comment, only tagging DogeDesigner as the creator of the video. Nonetheless, this nod was enough to stimulate DOGE bulls into driving up the cryptocurrency's price by an impressive 4%.
Dogecoin Price Analysis
Yet, it's critical to delve deeper into the charts for a more holistic view. Before Musk's tweet, DOGE faced resistance just shy of the 50 EMA on the 4-hour chart. As we've seen in the past, such sudden pumps can be ephemeral. At press time, Dogecoin was already giving back some of its gains, standing at a mere 2% increase from the pre-tweet levels.
Nevertheless, the effects of the tweet on the DOGE chart cannot be overlooked. The 4-hour chart reveals that Dogecoin surpassed the 23.6% Fibonacci retracement level due to Musk's stimulus. The onus is now on DOGE enthusiasts to maintain the momentum and hold above the $0.0626 price point. If achieved, there's potential for DOGE to rally towards the 38.2% Fibonacci retracement mark at $0.666. That said, investors should brace for considerable selling pressure, especially at the 78.6% Fibonacci retracement level, which stands at $0.0732.
Looking at the higher timeframe, the 1-day chart paints a more somber picture for DOGE. Despite Musk's latest tweet, Dogecoin remains ensnared in a persistent downtrend. This downtrend, defined by a descending trend channel, has been unwavering since December of the previous year.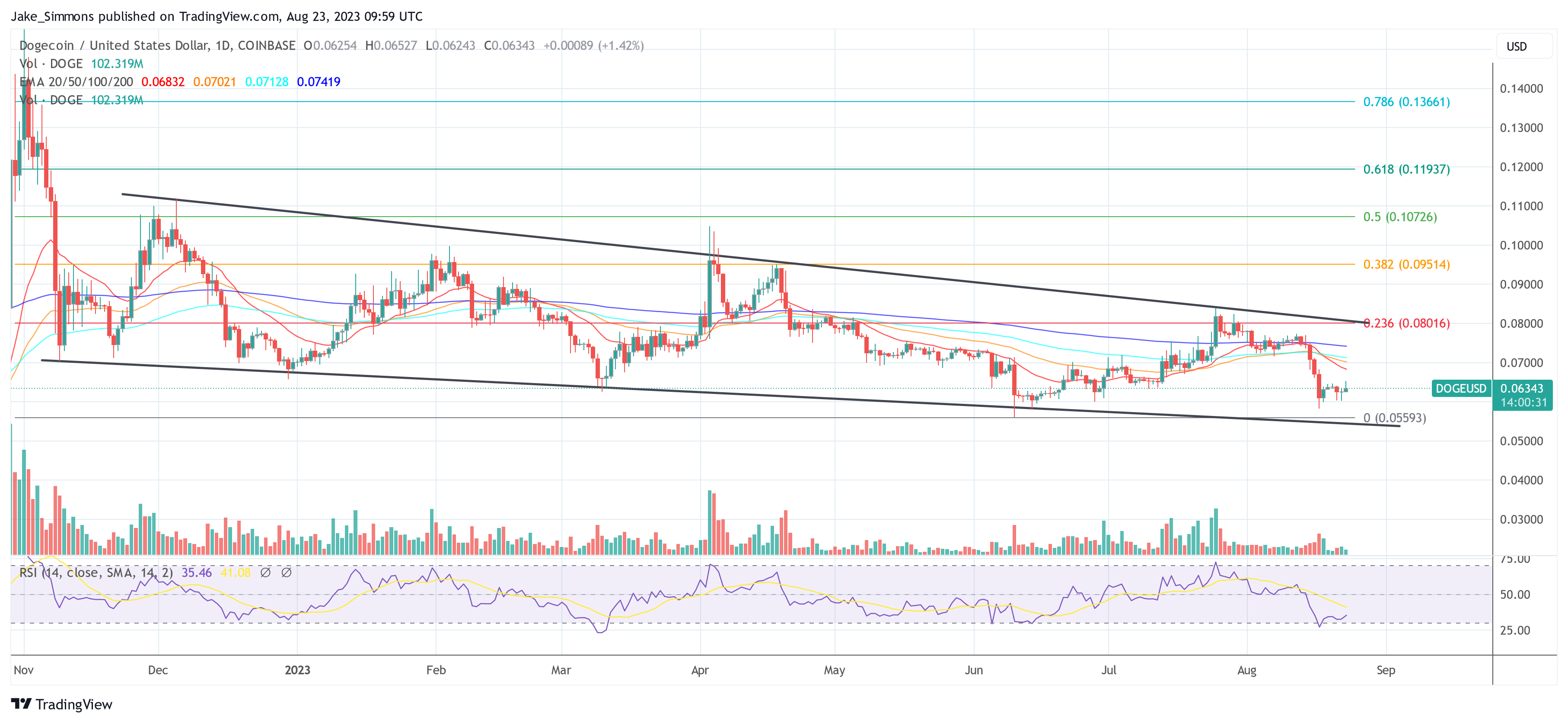 Recalling recent events, DOGE faced a rejection at this channel's upper trendline in late July and has been on a steady southward trajectory ever since. Alarmingly, key support levels provided by the 200-day EMA and other significant moving averages have been breached.